What will be hot in terms of what to wear in Oz in 2018? Would you believe a bevy of fashion staples are going to be de riguour in the Chinese Year of the Dog? Denim and having a good pair of jeans (and genes) will be one of those must have items in 2018. What goes with jeans like bread with butter? Sneakers; and urban streetwear sneakers come in a mind-altering array of styles and price tags. Another fashion staple is the perennial black blazer; and the fashionista gurus recommend that you invest in the best you can afford, whether it be Marc or Zara or something in between.  Satin slips are in and their versatility is their strength. The beret is back this winter; and get ready to see cat eye matrix sunnies matched with this head gear. Beanies are hanging around for another spin of the cycle and complementing the streetwear look. 
No Logo You Must Be Kidding 
No Logo may have been a seminal title by Naomi Klein; but streetwear has embraced the iconic logo like never before. Walking billboards in denim jeans with T-shirts emblazoned with large logos is a definite hit on the 2018 street parade. Designer brand names will be front and centre on the lithe young bodies of fashion queens of both sexes.  
Post Prince Purple 
Pop prince, Prince, may have departed this mortal coil but he has left behind a purple haze. The princely colour will be at the forefront of fashion colour choices in 2018. Be prepared to be engulfed in purple at this year's spring carnival in Melbourne. It won't only be horses and hoops, but two-legged fillies donning the purple silks in the stands. Purple boots and ultra violet dresses and lipsticks will be all part of the parade. Vibrant colours are in for this coming winter in a big and bold way. Fashion in Oz will be doing its best to cheer us up on those cold and, sometimes, gloomy days.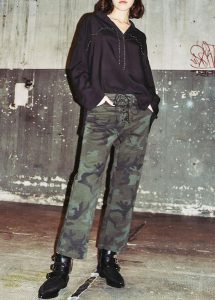 Kaia Gerber & those Cargo Pants 
Cargo pants have settled in for a longer stay on the upward end of the fashion wheel of fortune. I blame Kaia Gerber and those cargo pants of hers for entrenching these utilitarian togs in Australia's fashion scene. Match them with the black blazer and sneakers. Minimalism will still appeal to many women in their fashion choices in 2018. Jeans, white T-shirt, boots or sneakers and some subtle bling on wrists and rings. 
At the Glam End of Town 
Sequins and things that glitter are being reported to matter at the glam end of town in 2018. A throwback to the excesses of the 1980s is in the air. Cinched waists, big shoulders and plunging necklines will have you attracting plenty of attention. Matching this with your designer logo T-shirt and white boots could see you sashaying down the catwalk or disco floor. Equally 'fringing' is making a long-awaited comeback, think country and western singer outfits and Rawhide. Sheer dresses are revealing those important anatomical features once again on runways at fashion shows around the country. 
Check Out the Checks 
The check pattern will be a prominent fashion trend in Australian circles this season. Colourful checks striping your garments in an array of styles and prints. Ultra violet checks could be headed your way in this arresting Year of the Chinese Dog. Don't bite the hand that feeds you and no howling at the full moon. Check coats will be prominent this winter season on the streets of our cities. Monochromatic suits will be adorning business women in Melbourne and Sydney this year. 
Baby Bags 
Baby bags are in and will come in simple colours and classic shapes. The smaller the handbag the better it seems in 2018. You might just about be able to fit your phone in and not much else.
Enjoy the fashions for the coming year and you can check out the designers and their work from around the world at SilkRoadEXPO!