Choosing a bra that fits well can seem like an impossible dream for many of you. But not anymore! A good fitting bra that looks good makes you feel active and lively too.
A recent study concluded that the right bra size and fit can have potential health benefits against chest pain, thoracic pain, and breast pain in young women. It is very likely that women with large breasts wear incorrectly fitted bras.
It demonstrated that 80% of women wear incorrectly sized bras, out of which 70% wear tighter and 10% wear bigger bras than their actual size. (1  https://www.ncbi.nlm.nih.gov/pmc/articles/PMC2275741/)
Another research suggested that wearing a tight bra for longer hours is associated with an increased risk of breast cancer, in women. The type of fabric, underwire, and many other factors contribute to an uncomfortable bra. And based on multiple subjects, this study concludes why wearing a tight bra is not only uncomfortable, but also dangerous. (2)
The participants in this study were evaluated based on the following factors:
The type of bras they wore
Duration of wearing
Bra fabric
Underwire and pad material
General wearing habits
Based on these factors, it was clearly determined that women who wore tight-fitting bras for longer hours were at a potential risk of developing breast cancer-related complications. Women who wore a bra for at least 16 hours per day had a greater risk of cancer than those who wore a bra for only 8 hours per day.
Based on all this data, it's safe to say that choosing the right bra is more of a responsibility than desire. Depending on how often you wear it and how it's washed, the average bra can last for a very long time before getting stretched out. You need to invest in different styles so you'll have plenty of options to choose from based on your outfit.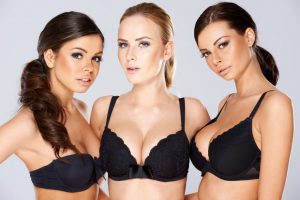 Choosing A Bra Type
There are plenty of bra sizes and shapes for you to fall back on. Even though you might find yourself modifying your bra preferences, it's always good to know what all is out there for you.
Push-up bras: They're great for wearing outfits with a deep neck cut or a lower cut neck than usual.
T-shirt bras: These are plain bras that are perfect for body fit t-shirts. No frills or padding is visible under the t-shirt.
Sports bras: These are great for supporting your breasts when you're exercising. A sports bra comes with a racer back design so it prevents your breasts from excessively bouncing during intense cardio (3).
Strapless bras: A strapless bra is as the name suggests. It is great for sleeveless tops and dresses. Even for outfits that don't have standard straps.
Balconette bras: The balconette bra works like a push-up bra, but the only difference is that it offers a slight lift from the bra.
Bandeau bras: If you're wearing a top without any straps and large armholes, a bandeau bra is your ideal pick.  However, they offer very little support for long-term usability.
Contour bras: A contour bra comes with plainer padding, while the cups design is more streamlined and smooth. You can wear a contour bra with body-fitting t-shirts and tops.
Measuring The Band Size
There are many ways to measure your band size. One is to wear a non-padded bra, use a measuring tape and wrap it around your back to front, keeping the tape at band level. You need to measure your band, right above the bust, so ensure the straps meet at that point.
Here is what you can do to measure your band size. (4)
Wrap a tape around your back, all the way to the front. You must keep the measuring tape underneath your bust, or breasts, to be able to take the exact measurement (in inches).
Ensure the measuring tape is horizontal and comfortable. Choose a measurement that's comfortable and snug.
Keep your arms down while taking the measurement. If incorrectly done, you might need somebody else's help to measure the band size.
In case your band size is an odd number, that is 31 or 33, you can always round it off to 32 or 34 or even lower. Depending on your fit and comfort level, you band size could also be 30 or 32.
And if your band size is an even number, that is 32 or 34, you can choose either a lower and higher number based on your breast size and body type.
The last step is to add 5 more inches, if your band size is an odd number, and add 4 inches, if it is an even number. That's the sum total of your band size measurement. For example, if you measured 32, your final band size is 32 plus 4 which is 36 inches.
That's all you need to know about measuring the band size. This method is considered to be the quickest and easiest way to choosing the perfect bra type. And for women having difficulty with finding the right size, considering a comfortable band size will most definitely help.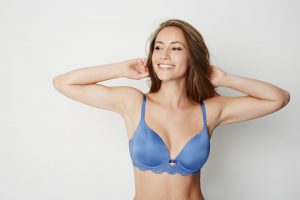 Measuring The Cup Size 
The next thing you'd want to pursue is measuring your cup size. A bra's cup size isn't a major deciding factor for choosing a bra, but it's important nonetheless. (5)
Here's how you can measure your cup size for the perfect body fit.
Keep your chest parallel to the ground. This is an unconventional method to measuring the cup size, but it's very effective. The reason why you need to bend over to measure your cup size is because that way you'll be measuring all your breast tissues, and not just the ones that protrude outward when you're standing.
Wrap a tape around your torso, front to back, pressing gently so that it's comfortable. Anything too tight or too loose results in bad judgement, which will ultimately lead to a bad fit.
Keep the measuring tape horizontal and snug. You need to make sure it is fairly level with the ground. You can do this by measuring yourself in front of a mirror or have someone else help you with it.
To properly measure your cup size, you need the band measurement too. So the subtraction of your band size and cup size is your final cup size you need to rely on. For example, if your band size is 34 and your bust size is 35, so your cup size would be 1 inch.
There isn't any fixed cup measurement, so whatever the difference, you will get your ideal cup fit.
That said, here's what your cup size measurements would look like after.
If the difference is…
Less than 1 inch – Your cup size is "AA"
1 inch – Your cup size is "A"
2 inches – "B"
3 inches – "C"
4 inches – "D"
5 inches – "DD"
6 inches – "DDDD"
and so on.
Now, bras are categorized based on sizes ranging from 34C, 34B, etc. Here, the "34" stands for your band size and "C" stands for your cup size. Bind those two factors together and you can easily find your right fit in no time!
Abridged Article Source :  Jen Reviews