Home is where we relax after a long day, enjoy our time with friends and create memorable memories. 
Fill it with detail and design and this can be simple and understated or daring and unusual. Your home above all should be the place you run to relax in and recharge in.  Decorate your personal space with the care you take when dressing yourself in the morning and you will be not only happy to return home but also happy to show off your home! 
Adorn your abode with a glimpse of spring 
As the winter season comes to a close, spring is in the air, along with the abundance of beginnings it brings. Blooming flower buds, vivid green leaves, newborn fauna. All such signs of new life encourage us to make a fresh start, spring clean, rejuvenate the home. Giving the look of your home a lift can improve your mood and increase your motivation. It's good for the soul.  
While you're inspired by nature, your home renovation needn't cost the earth. Just a few fresh touches here and there can evoke the desired effect. But, where to start? 
Freshen up the foundations 
Spring is very much about light. Brighter mornings, longer evenings, sunnier skies. While the growing flora is bound to be blessed with the odd shower or two, predominantly, spring gives away hints of summer.  
To bring the feel of spring into your home, first and foremost you need to brighten up some basics. Choose a classic, neutral paint colour. A timeless white, beige, or grey, will create sleek, clean lines. Clean lines, clear mind. From this, you can accessorise with furnishings and statement pieces to personalise your home.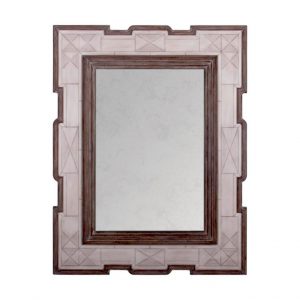 But before you add any bits and pieces, be sure to add a large feature mirror. When working to lift any room, regardless of size, a mirror will reflect light and give the illusion of space. This La Gare French Rustic Tribal Bone Antique Wood Mirror is ideal, and arouses nostalgia for your country sojourns overseas. 
Add a natural touch of colour 
As flowers begin to blossom and landscapes bloom to life, the world becomes awash with colour. Building on the neutral backdrop of your home, this set of two Nordic-inspired Light Grey Marbled Pots will effortlessly complement your decor, while allowing your flora to take centre stage.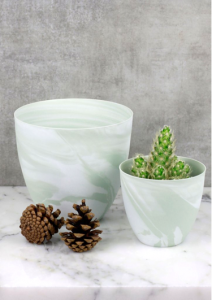 There's no hard and fast rule for your soft furnishings, however, rather than opting for a single cushion cover, try to coordinate alternating shades and styles.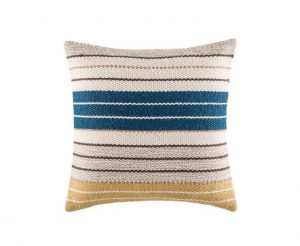 The neutral shades of the striped Jackie cushion perfectly introduce rust and blush shades suggesting of the soft shades of spring, while its reflective gold accents allude to the season's sun. Pair it with the Richie knitted grey marl and blush coloured cotton.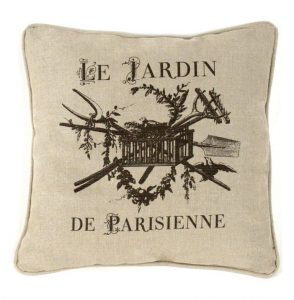 Alternatively, tie Jackie together with your rustic mirror by selecting from the French country cushion range. 
When decorating fill your home with light and colour and beautiful objects (and, they do not have to be expensive) that inspire you. It's good to surround yourself with items that rekindle happy memories for example, like the small table to fit next to a couch or, your favourite chair.  It can be made practical when it holds items which are often used. On the other side it can be made clever and stylish simply by adding different items.  Beautiful vintage frames with photographs of family or pets for example.  Or a pot with greenery and some candles ~ a lamp with a lovely cup and plate ~ some books stacked unevenly. it can be anything!